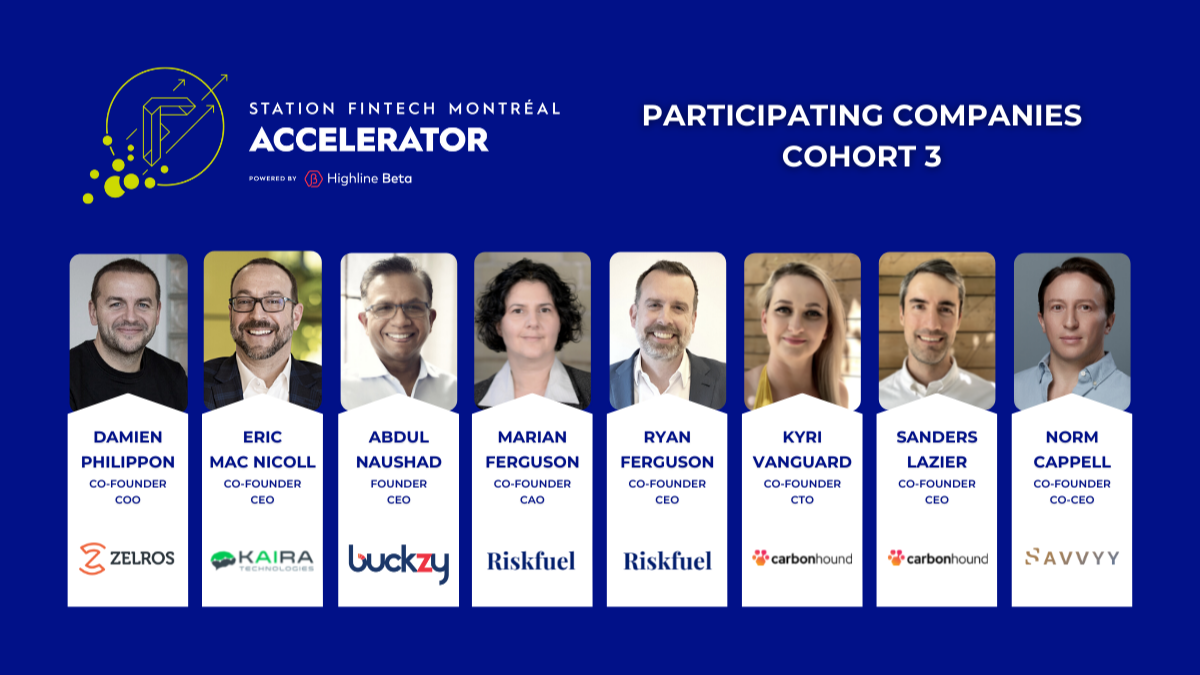 August 31, 2022 – The third cohort of the Station FinTech Montreal Accelerator powered by Highline Beta has been launched!
This cohort is composed of six Canadian-based, B2B fintech companies ranging from Pre-Seed to Series A, each building products in unique fintech verticals. Similar to the inaugural and second cohorts, these promising startups were selected based on the potential of their solutions having a significant impact on the Fintech industry
The Station Fintech Montréal Accelerator is a 4-month program designed to help founders accelerate their growth by introducing them to targeted connections in large corporations, insurance companies, investors and service providers within the Finance Montréal network in order to support corporate-startup collaboration.
Here are the 6 startups that have been chosen to participate in the third cohort of the Station Fintech Montréal Accelerator program:
BUCKZY
Buckzy is a global leader in enabling cross-border payments and financial services, empowering leading financial institutions and fintechs worldwide to deliver innovative and modernized financial solutions and service offerings. Buckzy enables a real-time cross-border payment network and Banking-as-a-Service on an embedded finance platform that is secure, scalable, modular and compliant. The platform offers over 200 APIs that can be utilized for any transaction banking use cases and customer journeys to deliver modernized and innovative financial products and solutions.
CARBONHOUND
Carbonhound empowers small and medium businesses to measure and reduce their climate impact. The software platform helps businesses manage their footprint without any expertise; making it easy to identify, reduce and finance climate action using leading science based standards.
KAIRA
Kaira is a new type of employees' benefit that complements the employers' overall compensation package. Kaira's mission is to improve employees' well-being at work while helping employers augment their attractiveness and retention. Kaira is a unique finance wellness mobile app delivering a digital and personalized financial coaching experience.
RISKFUEL
Riskfuel's mission is to bring transparency and understanding of the risks in derivatives portfolios by giving traders the tools they need to efficiently manage the risk in their positions in real-time. Riskfuel works with clients in the capital markets to vastly accelerate the financial models calculating valuation and risk of derivatives trades; calculations that normally take hours or days can now be completed in seconds. With Riskfuel, traders finally have fast and reliable valuation and risk management tools ensuring they are winning trades they should be winning and avoiding losses when the market swings. In addition to full insight into market risk at all times, the dramatic reduction in compute time leads to lower compute costs and a smaller environmental footprint.
SAVVYY
SAVVYY is building next-gen infrastructure for the mortgage industry, using data and design to modernize loan decisioning. The SAVVYY Platform is a cloud-native, and API-friendly end-to-end mortgage underwriting solution for lenders. SAVVYY's technology powers banks and other lenders as they originate and underwrite mortgages and other consumer loans, turning lenders into fintechs, and giving their teams the tools they need to shine.
ZELROS
Zelros is an InsurTech pioneer focused on delivering real-time personalized insurance recommendations across channels. The Zelros recommendation engine enables insurers to boost client acquisition, cross-sell and up-sell by 30%, drive agent effectiveness and increase quote conversion by 60%. Distribution and innovation leaders looking for new ways to improve customer engagement and experience turn to Zelros for help. Today, Global Fortune clients such as AXA, Credit Agricole, Maif, Matmut, and more rely on Zelros for creating a better experience for both their customers and agents.