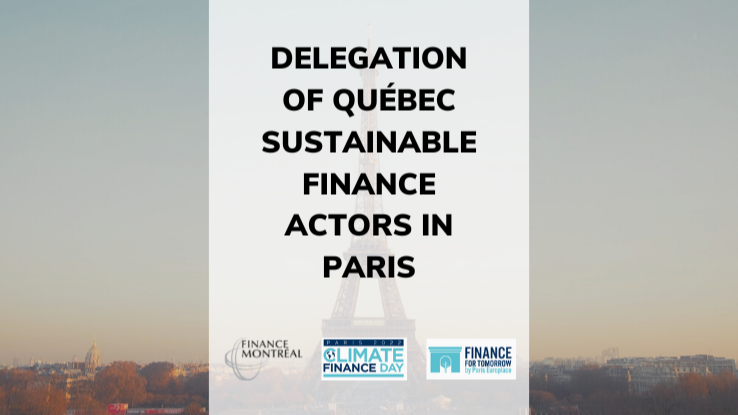 From October 24 to 28, 2022, Finance Montréal, along with 15 Québec representatives from the sustainable finance ecosystem, will be in Paris for Paris for Tomorrow Week and Climate Finance Day, organized by Finance for Tomorrow, a branch of Paris EUROPLACE.
For the first time, a delegation of this type is coming to France to meet with key players in sustainable finance across the Atlantic (financial institutions, regulators, central banks and French research centers) and to strengthen cooperation in a fast-growing field that offers many opportunities.
This visit is fully in line with the announcement of the creation of a Québec-France Corridor in sustainable finance launched in May 2022 at the initiative of Finance Montreal and Finance for Tomorrow. The two centres of excellence in sustainable finance are thus moving from words to deeds by promoting the sharing of best practices and creating new opportunities on both sides of the Atlantic.
We would like to thank the Commission permanente de coopération franco-québécoise and the Ministère des Relations internationales et de la Francophonie du Québec (MRIF) for their financial support to the delegation.

Thank you to: