Finance Montréal's International Financial Center welcomes two new additions to the thriving Montreal financial ecosystem.
Back in September 2020, Futures First, a subsidiary of the Hertshten Group, whose founder Gedon Hertshten is a trading industry veteran and sits on the CME's board of directors, chose Montreal for its first North American office. Futures First Canada provides market analysis services in various futures and options products across all asset classes, including fixed income, commodities, equity, and energy products. The objective is to leverage the very skilled local Montreal university graduates pipeline to hire and train market analysts specialized in identifying trading opportunities using advanced methods of pattern recognition.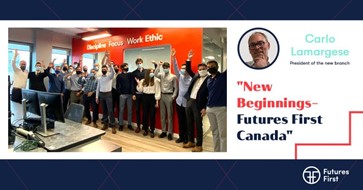 In November 2020, former Fir Tree partner Aaron Stern announced the creation of a Montreal-based hedge fund, Converium Capital. Hoping to raise $500M for event-driven investments, Stern, a McGill University graduate, chose to come back home after a successful career on Wall Street. He is bringing with him a team of internationally and locally hired investment experts, half of them McGill graduates.
The International Financial Center team at Finance Montréal works tirelessly to promote the city of Montreal as a world-class financial centre, where its globally recognized expertise in fintech, innovation and green finance meets with a deep and diversified talent pool and attractively low costs of living and for operations.
The IFC team, comprised of experts in economic development, foreign direct investment and financial services, provides long-term strategic and personalized support to financial institutions looking to establish offices in Montreal. Their services are wide-ranging, from economic data sharing, to liaising with key players of the local ecosystem, to assistance with site selection and incentive programs.
To learn more about what our IFC team can do, visit: https://www.finance-montreal.com/en/ifc-services
To contact the team: lysa.baumgartner@finance-montreal.com