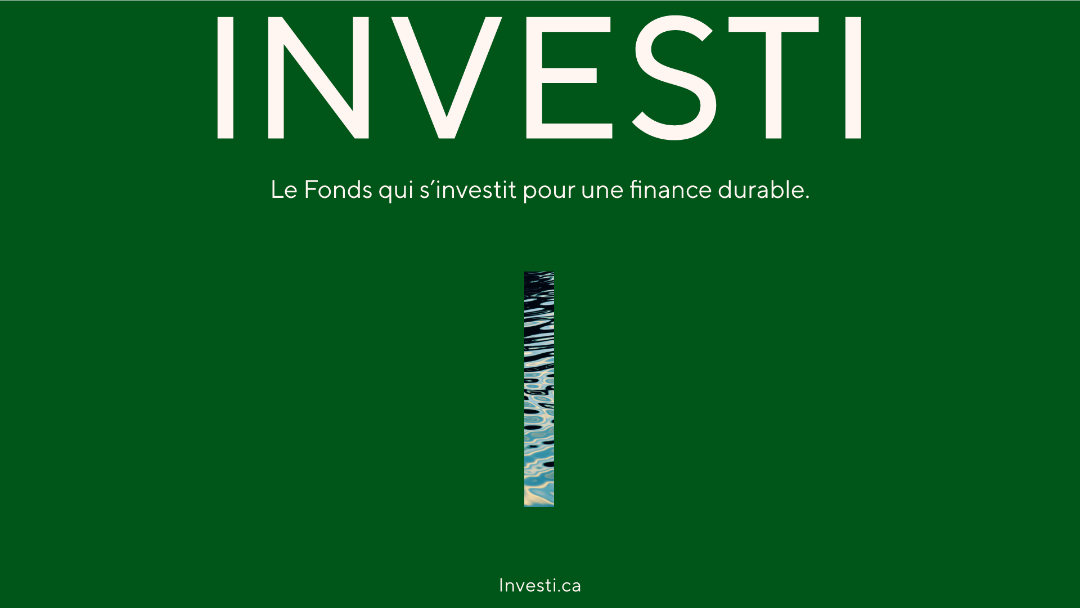 Montréal, May 30, 2023 - On the occasion of the 3rd edition of the Sustainable Finance Summit, Innocap and Finance Montréal announce the creation of investment funds aimed at promoting the emergence and growth of investment strategies incorporating environmental, social, and governance (ESG) criteria and sustainable finance (the "Investi Fund"). The Investi Fund, which has gathered $300 million in expressions of interest for its launch from 10 potential investors, aims to raise commitments of $1 billion within 24 months.
A unique collaboration to build sustainable finance
Innocap, a global leader in managed account platforms, will act as the investment fund manager for the Investi Fund and will provide a rigorous institutional framework for due diligence, risk management, and ongoing monitoring.
The objectives of this initiative are to identify and grow the most innovative sustainable investment strategies and propel Québec-based asset management firms specializing in ESG and sustainable finance. The Investi Fund also aims to attract renowned foreign asset managers to Québec who are eager to establish dedicated teams for sustainable investment strategies, while highlighting more cutting-edge ESG practices within the asset management ecosystem.
The investment groups that have expressed interest in the Investi Fund - National Bank Investments, Bâtirente, Beneva, CDPQ, Desjardins, Fondaction, the Fonds de solidarité FTQ, the Trottier Family Foundation, Optimum Financial Group, and the Samara Family Office - may be interested in accessing established asset managers demonstrating the application of rigorous ESG integration methods and impact strategies in one or more of the following asset categories: equities, fixed income securities, hedge funds, and private investments.
"The potential participation of institutional investors will enable the Investi Fund to establish a rigorous governance structure, ensure full transparency on the fund's activities and portfolio assets, and provide continuous monitoring in sustainable finance to prevent greenwashing and promote best practices in sustainable investment. With the Investi Fund, our aim is to finally make sustainable finance a driving force in the influence of the Québec financial industry," says Caroline Bergeron, Senior Director, Impact and ESG Solutions at Innocap.
"This is a strong signal being sent today. Once again, the Québec financial sector demonstrates its great capacity to innovate in addressing common challenges. This potential collaboration would further enhance the international recognition of ESG expertise in Québec and position the province as a center of excellence in sustainable finance in North America. I invite all stakeholders in the financial ecosystem to join this initiative," says Jacques Deforges, CEO of Finance Montréal.
A Call for Expressions of Interest and Applications
The Investi Fund will be managed by several established asset managers specializing in ESG and sustainable finance. Asset management firms meeting these criteria are invited to express their interest and submit their applications online by June 30, 2023.
To be eligible, asset management firms will be evaluated based on several criteria, including the integration of responsible investment principles within their corporate structure and governance, the size of assets under management and performance history, as well as the presence of an investment team in Québec to manage the proposed investment strategy or a demonstrated willingness to establish one in the short term.
Following a rigorous selection process to be conducted throughout the summer and thorough due diligence, the first selected asset management firms will be announced in the fall of 2023. The financial participation of institutions in the Investi Fund is subject to standard closing conditions.
Quotes
"The Investi Fund is a promising initiative for the future of finance, aligning with NBI's vision of placing responsible investment at the core of our decision-making. As a Québec-based firm, we believe in the importance of nurturing local talent and expertise. The Investi Fund represents an excellent opportunity to contribute tangibly to the evolution of the sustainable finance ecosystem here." - Éric-Olivier Savoie, President and CEO, National Bank Investments.
"As a leader in responsible investment, Bâtirente believes that actively managing ESG risks and investing in impact strategies contribute to the economic and social development of Québec. That is why we are proud to partner with the Investi Fund and contribute to the development of Québec's leadership in sustainable finance." - Éric Filion, CEO, Bâtirente.
"At Beneva, we make various commitments to social responsibility and environmental, social, and governance issues, which demonstrate our firm determination to contribute to an economic development that is more responsible and environmentally respectful than ever before. That is why we are pleased to join a collaborative movement within the financial industry by participating in the Investi Fund. This action aligns with our ambition to transition towards a clean, sustainable, and greener economy." - Mélissa Gilbert, Executive Vice President and Leader of Financial Affairs, Beneva.
"Taking ESG factors into account lets us better measure a company's long-term viability and gain a deeper understanding of the risks it faces, so it's important to equip asset management firms with the tools to adopt best practices. Contributing to Fonds Investi is one example of how CDPQ is taking additional action to help build a more sustainable economy." - Mario Therrien, Head of Investment Funds and External Management at CDPQ.
"The consideration of social impacts and the commitment to promoting long-term development that respects individuals, communities, and the environment are part of Desjardins' DNA. Financial institutions must integrate environmental, social, and governance factors to accelerate the transition towards sustainable finance. Desjardins welcomes this concerted initiative within the financial industry to launch a fund dedicated to ESG and sustainable finance." - Gildas Poissonnier, Head of Sustainable Development, Desjardins.
« We are very pleased to participate in this initiative and to contribute our expertise, in order to continue to improve sustainable finance practices in Québec and our collective impact, for a fairer, more inclusive, greener and more efficient economy. » - Luc Verville - Chief Investment Officer Public Markets, Fondaction
"The Trottier Family Foundation is pleased to support the new Investi Fund. Our participation in the Great Canadian ESG Championship has shown us that through a robust evaluation process, it is possible to identify leaders in sustainable investment and avoid greenwashing. We applaud the creation of the Investi Fund, which will provide us with another excellent opportunity to invest our endowment fund in a way that advances our climate and sustainable investment goals." - Eric St-Pierre, Executive Director, Trottier Family Foundation
"The integration of environmental, social, and governance criteria in investment decisions is now essential. We therefore welcome this commitment to mobilize major Québec institutions for the development of local expertise in sustainable finance." - Saloua Benkhouya, Vice President, Private Investments and Impact Investments - Services, Fonds de solidarité FTQ
"Optimum Financial Group is proud to get involved and support this initiative. Our desire is to propel Québec managers in sustainable finance and to increase responsible investments in asset management. Our commitment is already expressed through our portfolios by investing in sustainable companies based on ESG factors." - Anabelle Blondeau, President and Chief Executive Officer, Optimum Group Inc.
"Samara Family Office is very proud to participate in the Investi Fund initiative. By working together with key players in the Québec financial industry, we advocate for learning the best practices in sustainable finance and promoting responsible investment among Québec families." - Catherine Janson, Chief Investment Officer, Samara Family Office.
About the Investi Fund
Investi will be established as a family of investment funds created for the benefit of the sustainable finance ecosystem. With its dedicated sustainable growth capital, intended to be invested with experienced managers offering the best sustainable investment strategies, Investi aims to encourage the finance industry to adopt best practices in ESG integration and impact investing. Leveraging its collective intelligence, Investi is committed to raising industry standards to create lasting change in the world of finance. To learn more about the Investi Fund, visit www.investi.ca.
About Finance Montréal
Established in 2010, Finance Montréal, Québec's financial cluster, is at the heart of the development and promotion of Québec's financial services industry and its international positioning as a growing, competitive, attractive, and innovative world-class financial center. With its International Financial Center (IFC) team, Finance Montréal works to attract foreign financial companies to Montréal. The organization also focuses on fintech and innovation, sustainable finance, and talent development. As a hub for the financial community, Finance Montréal mobilizes its stakeholders around these areas, including the community built around the Montréal FinTech Station that it administers. To learn more about Finance Montréal, visit www.finance-montreal.com/en or our LinkedIn page.
About Innocap
Since 1996, Innocap has provided institutional investors with a superior model to structure, control, and access their alternative investments through its dedicated managed accounts platform. Innocap is the world's first dedicated managed accounts platform with $56 billion USD in assets as of December 31, 2022, >270 funds, and >$900 billion USD in client assets utilizing its technology. It benefits from strong and long-term committed institutional shareholders, including CDPQ, BNY Mellon, BNP Paribas, Fonds de solidarité FTQ, and Walter Global Asset Management. The Innocap team consists of more than 350 innovative professionals, and its robust financial technology operates from 7 offices worldwide, including its headquarters in Montreal. To learn more about Innocap, visit www.innocap.com/en or consult our LinkedIn page.